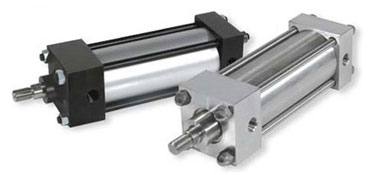 The National Fluid Power Association is our standard construction design. We manufacture our tie rod cylinders to fit directly interchange with any other brand of NFPA pneumatic cylinder you have in operation. Our standard NFPA cylinder construction allows for a wide variety of options, complementing the broad offerings of rod and mounting styles.
NFPA Cylinders
Our NFPA cylinders are both strong and affordable. They come with many features including rod wiper that is a tough urethane material that removes foreign materials from the rod which will extend the seal and bearing life. Our bearings are precision machined from close grained cast iron and Teflon® coated for lower friction. Our Pneumatic Cylinders are precision machined from high strength aluminum alloy & stainless and are available with an optional magnet for sensors.
NFPA Stainless Cylinders
Our Stainless Steel Cylinders utilize 300 series stainless steel end caps and honed tubing, along with Chrome-Plated stainless steel rod material. Our Chrome-plated stainless steel rod material improves resistance to scratches and dents. Our Stainless steel cylinders deliver consistent performance over a long life span regardless of the operating conditions that the cylinders are applied to.
Give us a call today and let our experts at Pneumatic Cylinders & Couplers help get you set up with our NFPA Aluminum and Stainless Cylinders.