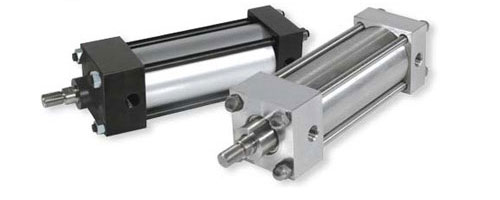 Pneumatic Cylinders & Couplers specializes in manufacturing of aluminum and stainless steel pneumatic air cylinders. We are experts in cylinders and we can provide custom cylinders for your machine. We believe that you shouldn't have to adjust your machine to work with OTHER people's cylinders. We can make our cylinders fit your machine.
Our cylinders combine proven design features with the highest quality workmanship and materials available. We offer quick turnaround and delivery and are American made in Northern Illinois.

Air Cylinder Uses
Our air cylinders are developed to work across multiple industries. We can develop cylinders for packaging, machining, printing, pulp/paper, food processing, automotive manufacturing, material handling and even animation and robotics.

Air Cylinder Industries
For food and dairy processing equipment manufacturers, we also offer a round repairable stainless air cylinder which eliminates cavities in tie rod cylinders. Our compact air cylinders are lower in price and repairable.

Aluminum Cylinders
Our Aluminum cylinders are durable and reliable and provide long lasting, cost effective solutions for all of your needs. Our Aluminum cylinders are strong and yet affordable and are ideally suited for a wide variety of industries and applications.