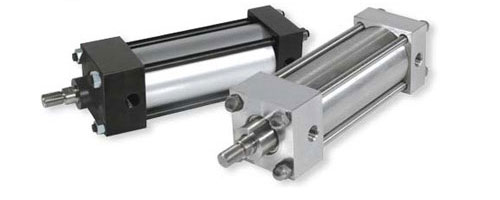 Pneumatic Cylinders & Couplers specializes in manufacturing of aluminum and stainless steel pneumatic air cylinders. We are experts in cylinders and we can provide custom cylinders for your machine. We believe that you shouldn't have to adjust your machine to work with OTHER people's cylinders. We can make our cylinders fit your machine.
Our cylinders combine proven design features with the highest quality workmanship and materials available. We offer quick turnaround and delivery and are American made in Northern Illinois.
Non-Rotating Cylinders
Our Non-rotating cylinders are both strong and affordable. They come with many features including rod wiper that is a tough urethane material that removes foreign materials from the rod which will extend the seal and bearing life. Our bearings are precision machined from close grained cast iron and Teflon® coated for lower friction. Our Non-Rotating Pneumatic Cylinders are precision machined from high strength aluminum alloy & stainless and are available with an optional magnet for sensors.
NFPA Cylinders
All of our cylinders are started based on NFPA Cylinder standards. We manufacture our tie rod cylinders to fit directly interchange with any other brand of NFPA pneumatic cylinder you have in operation. Our standard NFPA cylinder construction allows for a wide variety of options, complementing the broad offerings of rod and mounting styles.
Air Cylinder Uses
Our air cylinders are developed to work across multiple industries. We can develop cylinders for packaging, machining, printing, pulp/paper, food processing, automotive manufacturing, material handling and even animation and robotics.
Air Cylinder Industries
For food and dairy processing equipment manufacturers, we also offer a round repairable stainless air cylinder which eliminates cavities in tie rod cylinders. Our compact air cylinders are lower in price and repairable.
Aluminum Cylinders
Our Aluminum cylinders are durable and reliable and provide long lasting, cost effective solutions for all of your needs. Our Aluminum cylinders are strong and yet affordable and are ideally suited for a wide variety of industries and applications.
Stainless Steel Cylinders
Our Stainless Steel Cylinders utilize 300 series stainless steel end caps and honed tubing, along with Chrome-Plated stainless steel rod material. Our Chrome-plated stainless steel rod material improves resistance to scratches and dents. Our Stainless steel cylinders deliver consistent performance over a long life span regardless of the operating conditions that the cylinders are applied to.