Emergency Service Delivery Available - Call 815-639-1000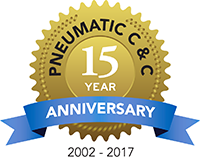 Thank you for visiting Pneumatic Cylinders & Couplers, Inc., the choice for quality and service.
At Pneumatic Cylinders & Couplers we specialize in aluminum and stainless steel cylinders and accessories. Our products combine proven design features with the finest available materials and superior workmanship.
Why design your machine to fit the cylinder when we can manufacture the cylinder to fit your application? Have it constructed by us to your specific machine requirements. We will quickly deliver it to you.